Welcome Race Fans!
Dennis Deese proclaiming God's Grace at the Race.
Evangelist Dennis Deese the circuit and circle driving Preacher Man

News update 7/6/2017: Unfortunately, our racing engine has failed and is basically non-repairable. We were blessed by Dennis Arnold who has loaned us another motor for the remainder of the 2017 race season. I can't express my gratitude enough to Dennis Arnold, Bobby Talbert and Kirby Gobble. Please be in prayer for a new engine for us. The cost is approximately $4,200. The ministry at the race track has grown to levels we never expected and we are grateful.

Can't say enough about Precision Electrical's Support. They are located in Kingsport, TN and do superior commercial and residential electrical work. Call them (423) 245-7179 for all your electrical needs in the Tri-Cities region.

Also, I would like to thank Pastor Donnie Humphrey Real Estate agent at Remax Real Estate. I hope you will contact him for list your next real estate transaction. Tell him Dennis Deese recommended him. You can reach him at: (423) 773-3984

2017 Race Results
March 25, 2017 (Kingsport Speedway)
Finish 9th
April 8, 2017 (Lonesome Pine Raceway)
Finish 5th
April 14, 2017 (Kingsport Speedway)
Finish 11th
April 28, 2017 (Kingsport Speedway)
Finish 11th
April 29, 2017 (Lonesome Pine Raceway)
Finish 4th
May 20, 2017 (Bristol Motor Speedway) - crashed
Finish 66 out of 104
May 26, 2017 (Kingsport Speedway)
Finish 5th
June 2, 2017 (Kingsport Speedway)
Finish 8th
June 3, 2017 (Lonesome Pine Raceway)
Finish 4th
June 16, 2017 (Kingsport Speedway)
Finish 6th
July 6, 2017 (Kingsport Speedway)
Finish 10th
July 21, 2017 (Kingsport Speedway)
Finish 8th
July 22, 2017 (Lonesome Pine Raceway)
***Finish 1st
August 4, 2017 (Kingsport Speedway)
Finish 7th
August 25, 2017 (Kingsport Speedway)
September 1, 2017 (Kingsport Speedway)
Our 2017 Season Race Sponsors
Precision Electrical Kingsport, TN
(Click the Logo for their website Information)
and
Re/max Real Estate (Agent Donnie Humphrey in Johnson City, TN)
(Click the Logo for their website Information)
Click here for our new Facebook Fan the Flame Racing Page
---
Dennis Deese Finished 3rd in the 2016 NASCAR Whelen Series Points Battle at
Kingsport Speedway in Kingsport, TN - Street Stock Division

Dennis Deese Finished 6th in the 2016 NASCAR Whelen Series Points Battle at
Lonesome Pine Raceway in Coeburn, VA - Modified Street Division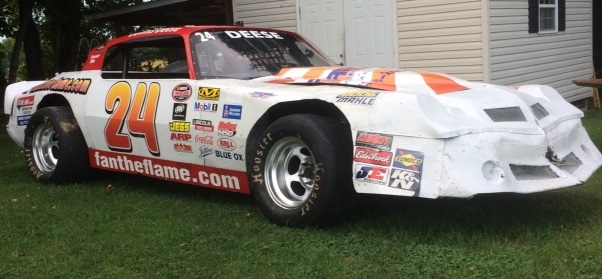 First Win at first race in 2016

Click here to see all 2016 Racing Videos

Click here for Video of June 10, 2016 Race
Click here for Video of April 29, 2016 Race

Click here for Video of June 3, 2016 Race
Click here for ⇒ Kingsport Speedway